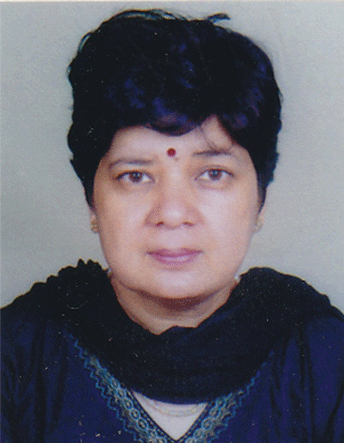 Dr (Mrs) Malti Goel is Former Adviser, DST and CSIR Emeritus Scientist in the Ministry of Science & Technology, Government of India and is a climate change expert.
Education: Ph.D Physics, Indian Institute of Technology, Delhi; D.I.I.T. Post Graduate Diploma in Solid State Physics, Indian Institute of Technology, Delhi,  in First Position with Distinction; M.Sc Degree in Physics, Birla Institute of Technology & Science, Pilani,  in First class first with Distinction,
Dr. Malti Goel is founder of the Climate Change Research Society. In early part of her career as Research Associate and Post Doctoral Fellow she was actively engaged in research on polymeric and composite materials at Indian Institute of Technology (IIT) Delhi.
From 1982 onwards she held different positions in the Department of Science & Technology of the Ministry of Science & Technology. She has been very perceptive about the multi-disciplinary research needs in thrust areas of physical sciences, materials sciences & atmospheric sciences. She coordinated several national level research initiatives in universities and academic institutions.
From 1998 to 2008 as Adviser She headed the Inter-sectoral Science & Technology Advisory Committee Division in the Department of Science & Technology. She has made pioneering contribution to promotion of industrially oriented joint technology research projects in socio-economic sectors dealing with energy conservation, greenhouse gas control technology and carbon dioxide sequestration etc,
She has had meritorious career, recipient of Gold Medal in Master's degree in Physics from Birla Institute of Technology & Science (BITS), Pilani. She was topper in D.I.I.T. (post graduate diploma) and was awarded Ph.D. in Solid State Physics from IIT, Delhi.
Dr Malti Goel is a very accomplished person having got trainings in Japan, Israel and UK in many important fields of coping with global warming, management of energy utilization and technology change among others. She has held a number of important national and international assignments and represented the country as Vice Chairperson in Carbon Sequestration Leadership Forum.
She has been associated with many academic institutions including Jamia Hamdard as Adjunct Professor, SV University, Tirupati, as Visiting Faculty, School for Planning and Architecture as Guest Faculty; Draunacharya College of Engineering and Management as Adviser and with premier science academy INSA as Emeritus Scientist.
She has received several awards and honors including Bharat Jyoti Award 2012 for outstanding contribution to society and Er Avinash Chandra Medal 2006 for excellence in environment education. She has authored/ co-authored several books and research papers in journals of international repute and cited in handbooks and patents.
She is member of several premier professional bodies in the area of her work and has been holding position in their Boards. She has also served as honorary editor-in-chief for the only air pollution journal in the country and peer reviewer for Elsevier publications on Energy.
She is currently Council of Scientific and Industrial Research Emeritus Scientist and Research Affiliate in the Centre for Studies in Science Policy, Jawaharlal Nehru University